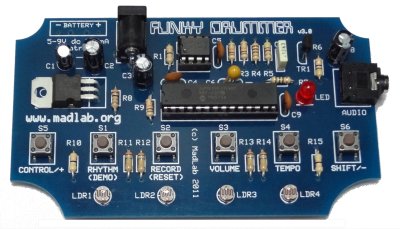 Funky Drummer
A programmable drum machine triggered by touch pads.
40 drum sounds (5 toms, 4 snares, 3 basses + hihats, cymbals, bongos, cowbell, clap etc.)
4 touch pads
12 preset rhythms
4 user rhythms
adjustable tempo
metronome during record
records 4 beats with 64 drum events per beat
demo mode
Listen to audio recordings of the drum sounds and the rhythms.

An article originally published in Elektor magazine describing an earlier version of this kit. Although substantially different from the current design, it may still be of interest.


Construction & User Guide | Schematic

This kit is available from Tindie.