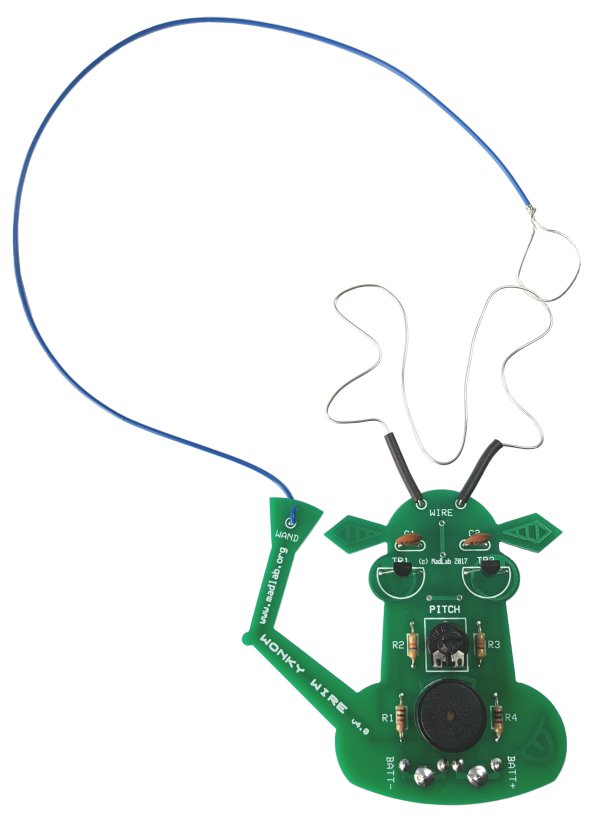 Wonky Wire
The Wonky Wire circuit is based around the same oscillator that is used for the Flashing Lights. The timing components (R3/C1 and R2/C2), however, are much smaller and this produces a much higher oscillation frequency of about 3kHz (3000 cycles per second).
To hear the high-pitched tone a high-impedance piezo-electric speaker is used. Notice that the piezo is connected between the collectors of transistors TR1 and TR2. The collector voltage of TR1 oscillates between 0 and 9 volts, as does the collector voltage of TR2 but in the opposite way. This has the desirable effect of producing a voltage variation of 18 volts across the piezo making it sound much louder.
The Wonky Wire is used to test the steadiness of your hand. You can see from the circuit diagram below that when the wand touches the wire the oscillator is switched on and a tone is produced.
The variable resistor (VR1) can be used to change the pitch of the tone.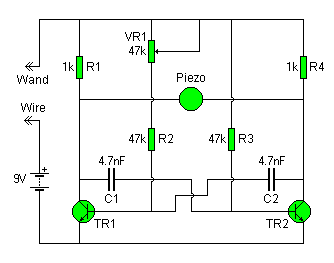 This kit is available in Europe from Velleman
and in North America & Central America from VellemanStore.

MadLab kits are also available in America from Fry's and Jameco as well as other suppliers.

For educational orders for schools, colleges and festivals, please email.


Construction Sheet | Order Form