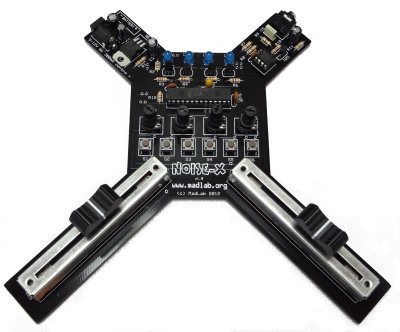 Noise-X
A digital synthesiser that behaves more like an analogue synthesiser. Great for making sci-fi sound effects. Using a combination of sliders and rotary pots, a variety of atmospheric sounds can be created.
4 DCOs (digitally-controlled oscillators) + mixer
pitch and amplitude LFOs
waveforms - sine, square, triangle, rising sawtooth, falling sawtooth, pulse, noise
frequency modulation and ring modulation
delay line with feedback
flanger
user patch (non-volatile)
Uses 4 x AA cells, or an external power supply.

Listen to an audio recording of sample sounds in MP3 format (about 4MB).


Construction & User Guide | Schematic

This kit is available from Tindie.